India to go to polls from April 11, Pakistan tension may boost Modi
印度大选将于4月11日开始,印巴紧张局势或提升莫迪的人气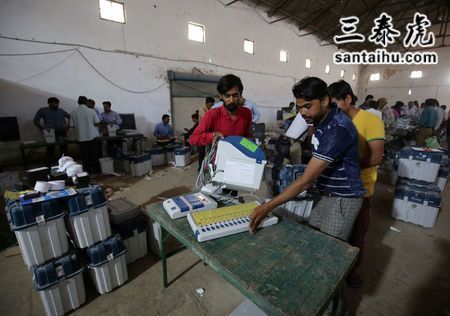 By Devjyot Ghoshal, Zeba Siddiqui and Aftab Ahmed
NEW DELHI (Reuters) - India will hold a general election in seven stages starting on April 11, the election commission said on Sunday, in what will be the world's biggest democratic exercise with Prime Minister Narendra Modi likely to benefit from tensions with Pakistan.
新德里(路透社)—印度选举委员会周日表示,印度将从4月11日开始分7个阶段举行大选。这将是世界上规模最大的一次皿煮选举,印度总理莫迪或能从与巴基斯坦的紧张局势中受益。
About 900 million citizens will be eligible to vote, 15 million of them aged between 18 and 19, in a mammoth exercise lasting more than a month, Chief Election Commissioner Sunil Arora said at a press briefing in the capital New Delhi on Sunday.
印度选举委员会主席阿罗拉周日在首都新德里的新闻发布会上表示:"大约有9亿公民将有资格投票,其中1500万选民的年龄在18岁至19岁之间。"
Until a few weeks ago, a shortage of jobs and weak farm prices were seen denting Modi's popularity. But pollsters say his ruling Hindu-nationalist Bharatiya Janata Party (BJP) now has a clear advantage after India's armed forces clashed with those of arch-rival Pakistan last month, triggering a wave of patriotic fervor across the country of 1.3 billion.
直到几周前,就业岗位短缺和农产品价格疲软还被认为削弱了莫迪的人气。但是民调专?#39029;疲?#22312;上个月印度军队与主要竞争对手巴基斯坦军队发生冲突后,莫迪领导的印度教民族主义政党印度人民党(BJP)现在拥有明显的优势,引发了全国13亿人的爱国热情。
Of the 543 parliamentary seats up for grabs, 241 could go to Modi's ruling alliance, compared with 141 to the Congress party-led opposition alliance, according to a nationwide survey of 50,000 people by the CVoter polling agency conducted over the past four weeks.
民调机构CVoter在过去四周对5万人进行的一项全国性调查显示,在543个待定议会席位中,莫迪的执政联盟或将获得241个席位,而国大党领导的反对党联盟可能只能获得141个席位。
"The Hindi heartland -- barring Uttar Pradesh -- has charged up due to the Pakistan issue," said Yashwant Deshmukh, founder of CVoter, referring to the northern state of Uttar Pradesh that sends the largest number of lawmakers to India's lower house of parliament and is a key battleground for the election.
CVoter创始人Yashwant Deshmukh?#30130;?ldquo;由于巴基斯坦问题,印地语的中心地带(除了北方邦,)的爱国热情已经被点燃了。位于印度北部的北方邦是印度下议院议员最多的地区,也是选举的关键战场。"
Earlier surveys released in January, before the most recent tension with Pakistan, showed the BJP and its allies emerging as the largest group in the election but falling short of a majority.
今年1月公布的民调显示,在最近与巴基斯坦关系紧张之前,人民党及其盟友在选举中是最大的群体,但未能获得多数席位。
In 2014's general election, the BJP won 282 out of 543 contested seats - the strongest showing for any political party in three decades.
在2014年的大选中,印度人民党在543个竞争席位中赢得282席,这是30年来表现最强劲的一次。
However, the main opposition Congress party, which late last year ousted the BJP from power in three largely rural states, is trying to band together with regional and caste-based parties to oust Modi.
然而,印度主要反对党国大党正试图与地方和基于?#20013;?#30340;政党联合起来?#21697;?#33707;迪。去年年底,印度国大党在三个以农村为主的邦将人民党赶下台。
Congress, controlled by the Nehru-Gandhi dynasty that ruled India for most of its post-independence history, is banking on voter resentment to propel the opposition alliance to victory.
由尼?#31456;?甘地王朝控制的国大党,正指望选民的不满情绪推动反对党联盟走向胜利。在印度独立后的大部分时间里,都是由国大党统治着印度。
HSBC Securities and Capital Markets said in a note that national security and nationalism could trump economic issues in determining voters preferences.
汇丰证券和资本市场(HSBC Securities and Capital Markets)在一份报告中表示,在决定选民的偏好方面,国家安全和民族主义可能胜过经济问题。
Arora, the chief election commissioner, said three special observers would be deployed in the northern Jammu and Kashmir state, where India is battling multiple insurgencies and where elections are usually marred by violence. Votes will be counted on May 23, he said.
印度选举委员会主席阿罗拉表示,印度将在北部的查谟和克什米尔邦部署三名特别观察员。在那里印度正与多起叛乱作斗争,选举通常遭到暴力破坏。投票将于5月23日进行。
He also said Facebook, Twitter, Google and WhatsApp have committed to cracking down on fake news by deploying fact checkers and grievance officers.
他还表示,Facebook、Twitter、谷歌和WhatsApp已?#20449;?#36890;过部署事实核查人员和申诉人员来打击假新闻。
There has been mounting concern in India that political party workers could spread false news on the social media platforms to sway voters. WhatsApp has in particular become a key campaign tool used widely by both leading parties.
在印度,越来越多的人担?#27169;?#25919;党工作人员可能会在社交?#25945;迤教?#19978;传播虚假新闻,以影响选民。尤其是WhatsApp,已成为两大主要政党广泛使用的关键竞选工具。
The commission has also set up a separate team to monitor expenditure of political parties after a record spend in the 2014 election. Many parties understate their expenses and monitoring has been difficult in the past.
在2014年大选创纪录的支出之后,选举委员会还成立了一个独立的小组,负责监督各政党在大选中的支出。许多政党都低估了它们的开支,而且在过去很难进行监督。
美国雅虎读者评论:
译文来源:三泰虎 http://www.5763157.com/47184.html 译者:Jessica.Wu
外文:https://news.yahoo.com/india-polls-april-11-tension-pakistan-seen-boosting-122359208.html
IBEBACK14 hours ago
Maybe they can vote on whether or not they want flush toilets or nuclear weapons.
也许他们可以投票决定是要修厕所还是要发展核武器。
FMR7 hours ago
Terrorists blew it by attacking and killing Indian soldiers in Kashmir which has boosted and inspired more Indian voters to reelect Modi in an upcoming election.
恐怖分子在克什米尔袭击并杀害印度士兵,从而引爆了这场战争。这促使更多印度选民在即将到来的选举中再次投票给莫迪。
Suresh9 hours ago
Modi has lied to people. Indian Air Force attack was total failure. See at Western Media
report. If successful, Modi would have displayed proof and bragged about it 24-4.
莫迪对人民撒了?#36873;?#21360;度空军的攻击完全失败了。去看看西方?#25945;?#30340;报道。如果空袭真的成功了,莫迪会拿出证据并大肆吹嘘一番。
Nasser13 hours ago
Elect a peace maker - PLEASE - like Imran Khan.
请选出一位和平缔造者——就像伊姆兰•汗那样的。
Faisal3 hours ago
Modi PM of India is doing terrorism in Pakistan and India. All to win an election ???? Really
印度总理莫迪在巴基斯坦和印度搞恐怖主义,这一切都是为了赢得选举??
Mark7 hours ago
India needs more Gandhi types and less Modi types.
印度需要更多甘地式的人物,而不是莫迪式的人物。
ashar9 hours ago
Ditto that was a whole reason ignite hate win election ....only people with wisdom can understand this
点燃仇恨是为了赢得选举,只有有脑子的人才能明白这一点
Anonymous8 hours ago
Raises the question who was really behind the bombing that killed 40 soldiers
有一个问题,到底是谁策划了导致40印度士兵丧生的爆炸事件
antidhimmi7 hours ago
PAKlstan, is a bankrupt nation, nation of pan handlers
巴斯斯坦是一个破产国家,乞丐国家。
Roma10 hours ago
Rafael deal is mired in controversy. Nation has a right to know what happened. Somehow Modi is reluctant to constitute a parliamentary committee to probe it. Democracy should be respected. I think that is the major allegation Modi's govt. faced.
"阵风"交易陷入了争议,人民有权知道发生了什么。不知何故,莫迪不愿成立议会委员会来调查此事。皿煮应该得?#38454;?#37325;。我认为这是莫迪政府面临的主要指控。
IT-Freelancer3 hours ago
Worst PM is Modi complete failure, no development, no job, poor have become poor, less than 1% have become richer controlling 99% of the country, several billionaires who have scammed banks have ran away out of the country.........they are banking on polarized divisive politics creating divide between Hindus, Muslims and other religions that's what their main agenda is.......that's where they are playing muslim Pakistan game to win votes....India needs a better educated PM someone who is secular treats all races, religions as equal......not Modi, BJP/RSS.....
最差的总理是莫迪,太失败了,没有带来发展,没有创造就业,穷人越来越穷,只有不到1%的人变富了并控制着99%的财富,让数名诈骗银行的亿万富翁逃离了这个国家。他们寄希望于两极分化的政治,在印度教徒、和其他宗教之间制造分裂,这就是他们的主要议程,这就是他们赢得选票的伎俩。印度需要一个受过高等教育的总理,一个对所有种族、宗教一视同仁的世?#23383;?#20041;者,而不是莫迪、印度人民党/民族志工组织 .....
Swapan11 hours ago
miga modi 2020
让印度再次伟大,莫迪2020.
indiat7 hours ago
The warmonger Modi is taking advantage of the current situation; makes you wonder who was behind these attacks.
好战的莫迪正在利用当前的形势,让你不禁怀疑谁是这些攻击的幕后主使。
Naberius9 hours ago
Why do I get funny phone calls from India? Yes... I am dee irs agents?
为什?#27425;?#20250;接到来自印度的电话?挺逗的……难道我是美国国税局的探员吗?
jack2 hours ago
What surprise Hindu RSS butcher MOdi gaining on his warmongering stance. All the Jews, Muslim , Christians, Sikhs should unite against such a radical thought of divinding and eradication. I know there are still good people in India and they will vote MOdi out
印度RSS屠夫莫迪的好战立场让人吃惊。所有犹太人、、基督徒、锡克教徒都应该团结起来反对这种关于分裂和消灭的激进思想。印度还是有明事理的人,他们会把莫迪赶下台。
Carolina4 hours ago
Question to all the pakis. If your pilot destroyed mig21being flown by Indian pilot Abhinandan, why don't you organize international press conference and present that pilot as national hero ?
向所有巴基斯坦人提个问题:如果你们的飞行员击落了印度飞行员阿比纳丹驾驶的米格21,你为什么不组织一次国际新闻发布会,把那个飞行员塑造成民族英雄呢?
melvin11 hours ago
Modiji Zindabad! Vote for BJP! Don't let the corrupt, coward Congress to come back ! They will sell India to Pakistan.
莫迪万岁!为印度人民党投票! 别让腐败、懦弱的国大党上台!他们将会把印度卖给巴基斯坦。
Kris8 hours ago
BY bombing the terrorist factory inside "nuclear Pakistan", Mr. Modi might have driven the last nail in the coffin of international terrorism. For the first time, Pakistan has been forced to introspect. That is good for Pakistan, Afghanistan, US, Iran and India.
通过轰炸"巴基斯坦"境内的恐怖主义工厂,莫迪可能已经给国际恐怖主义的棺材钉上了最后一颗钉?#21360;?#24052;基斯坦第一次被迫反省。这对巴基斯坦、阿富汗、美国、伊朗和印度来说都是好事。
Sorb45 minutes ago
Some of the messages show that the terrorist attack on Indian soldiers will boost and inspire Indian voters to re-elect Modi
It means, is this attack sponsored by the ruling party and Modi Govt. to get votes???
We have to think about it; there are many questings from which the most important is how the terrorist come on the row of the Soldiers convoy without Indian support??? Think, think, and more think
一些信息显示,针对印度士兵的恐怖袭击将促使印度选民再次选择莫迪。
这是否意味着这次袭击是由执政党和莫迪政府发起的?
有很多疑点,其中最重要的是,在没有印度支持的情况下,恐怖分子是如?#20301;?#36827;印度士兵车队中的?好好想想。
Tayyab5 hours ago
These tensions were created by modi lol.
紧张局势是莫迪制造的,哈哈。
Sk42 minutes ago
Hmmm, once again right before elections a tragedy and accusations against Pakistan....Modi killed 2,000 poor people in the slums of Bombay, Modi kills his own soldiers...these high castes really don't care about anything but power and money... disgusting ideology is Hinduism
在选举前夕,又一次对巴基斯坦发起攻击,提出指控……莫迪在?#19979;?#36139;民窟杀死了2000名穷人,莫迪杀死了?#32422;?#30340;士兵……这些高?#20013;?#30340;人除了权力和金钱之外什么都不在乎……印度教的意识?#32705;?#22826;恶心了。
john8 hours ago
If modi wins again then there is no dumber nation than people of India.
如果莫迪再次获胜,那没有比印度人民更愚蠢的人了。
Iqbal11 minutes ago
This whole Pulwana episode, where almost 50 Indian Soldiers were killed by a suicide bomber was staged to facilitate Modi to win the coming elections.
According to some reports, Indian Intelligence knew before hand about the attack.
This loser Modi almost started a Nuclear War with Pakistan to boost his standing.
I hope the intelligent people of India will reject Modi, who by the way, himself is a terrorist.
整个普尔瓦纳事件,将近50名印度士兵被自杀式诈弹炸死,只是为了帮助莫迪赢得即将到来的选举。
据一些报道,印度情报部门事先就知?#26469;?#27425;袭击。
这个失败的莫迪几乎发动了一场与巴基斯坦的核战争来提升他的地位。
我希望印度的聪明人会拒绝莫迪,顺便说一句,他?#32422;?#23601;是个恐怖分?#21360;?/strong>
SM55 minutes ago
India's first LIAR PM in 70 years.
70年来印度首位撒谎总理。
Shyerrylittle4 hours ago
Hindoos gotta be dumbest people if they still vote for Modi after all the humiliation of India by Pakistan!!!!
在被巴基斯坦羞辱之后,如果印度人还把票投给莫迪,那他们一定是最愚蠢的人!