Tesla Is in Talks With Chinese Battery Giant to Power Model 3s Made in China
特斯拉正在与中国电池巨头谈判,为在中国生产的Model 3提供动力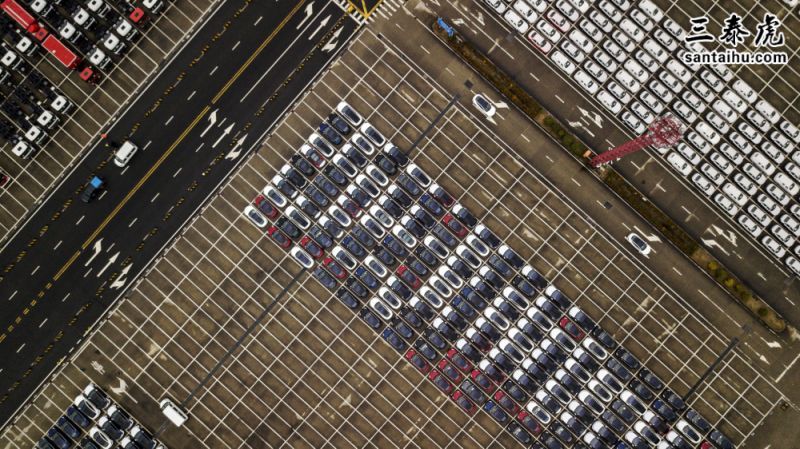 (Bloomberg) -- Tesla Inc. is in talks with top Chinese battery producer Contemporary Amperex Technology Co. Ltd. about supplying cells for the Model 3 cars it will assemble at a new factory near Shanghai, people familiar with the matter said. CATL's stock jumped.
(彭博社)--据知情人士透露,特斯拉正与中国顶级电池生产商宁德时代就为Model 3汽车供应电池一事进行谈判。特斯拉将在位于上海的新工厂组装Model 3。宁德时代股价上涨。
CATL has been discussing the required specifications for the batteries with Tesla officials, the people said, asking not to be named because the talks are private. There's no guarantee that an agreement will be reached, according to the people.
知情人士称,宁德时代一直在与特斯拉讨论电池的规格,但这并不一定保证双方的协议会达成。
For CATL, winning orders from a high-profile customer like Tesla would bolster its profile as one of the world's emerging battery-making power houses. Based in China's southern Fujian province, the company is on course to become the biggest manufacturer of lithium-ion batteries in China.
对于宁德时代来说,赢得特斯拉等知名客户的订单,将提升其作为全球新兴电池制造商之一的形象。该公司总部位于福建省,有望成为中国最大的锂离子电池制造商。
Shares of CATL climbed as much as 6.7 percent. The stock rose 4 percent to 91.45 yuan at 10:12 a.m. in Shenzhen, the biggest intraday gain in a week.
宁德时代的股价上涨了6.7%。深圳股市上午10点12分上涨4%,至91.45元,创下一周最大盘中涨幅。
In a statement on Tuesday, CATL said it hasn't reached an agreement with Tesla on cooperation or signed any business pact. The company didn't say whether it is in talks with the U.S. electric-car manufacturer.
周二,宁德时代在一份声明中表示,?#24418;?#19982;特斯拉就合作达成协议,也没有签署任何商业协议。该公司为透露是否正在与这家美国电动汽车制造商进行谈判。
Tesla declined to comment.
特斯拉拒绝置评。
美国雅虎读者评论:
译文来源:三泰虎 http://www.5763157.com/47188.html
外文:https://finance.yahoo.com
Carol10 hours ago
The Tesla Model 3 is a futuristic all-electric car made by USA based Tesla Inc. It is currently the best selling all-electric car in the U.S. ever and the backlog of orders continues to grow possibly projecting it into the best selling all-electric car in the world in time. Exciting times for an American auto manufacturer
特斯拉Model 3是一款未来派的纯电动汽车,由美国特斯拉公司生产。目前,它是美国有史以来最畅销的纯电动汽车,积压的订单仍在在继续增长,这可能会让它成为全世界最畅销的纯电动汽车。对于一家美国汽车制造商来说,这是激动人心的时刻。
Jeremy Wade10 hours ago
China's biggest car battery maker, CATL, has been ordered by the United States Court to pay 3% of their sales in the United States to LG Chemical, which is a competing Korean car battery maker, for violating LG's U.S. Patent rights. On the other hand, CATL will continue to violate the same U.S. Patent rights of LG Chemical in China because China does not recognize foreign companies' patent rights. Other countries around the world should violate Chinese companies' patents at will to return the favor.
中国最大的汽车电池制造商宁德时代因侵犯LG在美国的专利权,已被美国法院下令将其在美销售额的3%支付给竞争对手韩国汽车电池制造商LG Chemical。另一方面,由于中国不承认外国公司的专利权,在中国,宁德时代将继续侵犯LG的美国专利权。其他国家?#37096;?#20197;肆意侵犯中国公司的专利,?#28304;?#26469;回应中国。
USAWINS10 hours ago
Tesla. Built on a massive amount of US taxpayer dollars. Manufacturing in China? Never buy a Tesla!
特斯拉是靠美国纳税人的钱成立的,却在中国生产?永远不买特斯拉!
B9 hours ago
Hmmm... As far as I can tell the battery business is the only redeemable piece of Tesla. I don't expect it to survive the next 2-3 years as a standalone car company. It will either become a battery company and sell off the car company or merge with a much larger player wanting the battery technology. The car company itself isn't worth 10% of its current stock value.
据我所知,电池业务是特斯拉唯一可以赚钱的业务。作为一家纯汽车公司,特斯拉撑不过2-3年。它要么成为一家电池公司,卖掉汽车业务,要么与一家想要电池技术的大公司合并。这家汽车公司本身的价值还不到其当前股票价值的10%。
td10 hours ago
Amazon profited $11 billion in 2018, and paid zero taxes. I'm guessing Tesla is no different
2018年,亚马逊盈利110亿美元,而且没有缴税。?#20063;?#29305;斯拉也一样。
ceyhun c4 hours ago
Electric cars are all about battery technology if you don't produce your own batteries how to differentiate your car from others?
电动汽车靠的就是电池技术,如果你不自己生产电池,那你的汽车和别家的有什么不同?
R G9 hours ago
I thought Tesla was founded to develop advanced batteries.
?#19968;?#20197;为特斯拉是为了开发先进电池而成立的。
Ucan'Thandlethetruthyesterday
and how much is a replacement set of battery, the equivalent to 1000 gal of gas or more.. As we all know battery operated devices are cheep its the batteries that are not.
换一组电池要多少钱,相当于1000加仑或者更多的汽油。我们都知道电池驱动的设备很便宜,但电池并不便宜。
Ken9 hours ago
Wonder what Tesla technology Musk gave to the Chinese to set up the factory.
想知道马斯克为了建立这家工厂给了中国人什么技术。
Dan5 hours ago
That's a Great Idea... to diversify battery production .
好主意……这样能使电池生产多样化。
user7 hours ago
I'm not going to buy Tesla if it is made in China! Made in USa is one of the reasons to buy Tesla. If made in china, then no
如果特斯拉是中国生产的,我就不买! 美国制造是购买特斯拉的前提之一。如果是在中国制造的,那就不买。
jackwiththebigjack7 hours ago
Trump is working on the Made in America model . MAGA baby!!
特朗普正在研究"美国制造"模式,让美国再次伟大! !
James8 hours ago
in the future when all these car require battery upgrades where will the old ones go? you think carbon emissions are bad wait until these toxic batteries start to end up in land fill poisoning your water supply.
将来,当所有这些汽车都需要升级电池时,旧电池将何去?#26410;?你认为碳排放是不好,有朝一日这些有毒电池将开始污染水源。
Clintonn10 hours ago
I just realized I don't want a tesla anymore
我不想买特斯拉了
td10 hours ago
Notice it's not an American battery company
注意:这不是美国电池公司。
roadie9 hours ago
And I was thinking of getting a Telsa. But, not with junk batteries from China.
Especially when we have large, ultra modern battery plants right here in the USA.
我想买台特斯拉。但是,不买配中国垃圾电池的特斯拉。
我们在美国有大型,超现代的电池厂。
James7 hours ago
Tesla is all about making great electric motors, just like Honda was famous for making gas motors.
特斯拉致力于制造伟大的电动汽车,就像本田以制造汽?#22836;?#21160;机而闻名一样。
JR10 hours ago
Made in China. Exploding batteries
中国制造的,电池会爆炸。
Tony10 hours ago
Weren't they building a gigafactory in China for battery production? Now that's not happening.....ship is sinking fast! Wouldn't want to be long tsla....shorts all over it
他们不是在中国建了一个生产电池的超级工厂吗?
Common Sense9 hours ago
TESLA in China is a Huge Error in Judgement
特斯拉去中国生产是个巨大的错误
Nick10 hours ago
Batteries from China = product on fire.
来自中国的电池=会着火的产品。
American10 hours ago
Chinese Teslas, sounds safeImageintersectdisconnectBy intersectdisconnect on
中国产的特斯拉,听起来很安全
Anonymous10 hours ago
What about their own batteries?
他们自己的电池呢?
TK10 hours ago
Tesra is going big
特斯拉正在发展壮大
Mr. Logical9 hours ago
If Telsa goes to China we should stop buying.
如果特斯拉去中国生产,我们?#36879;?#25269;制。
James7 hours ago
The age of electric motors is just beginning, by Tesla in China.
电动汽车时代才刚刚开始,由特斯拉在中国开启。
Anonymous1 hour ago
Hopefully the trump tards out there are paying attention. Tariffs don't work! As long as the corporate CEO's are trying to increase profits and share value - jobs are going overseas.
希望特朗普注意到?#26031;?#31246;不管用!只要企业首席执行官们想要提高利润和股价,工作就会流向海外。
Gary9 hours ago
Making China Great Again. Nice. And I'm sure the Chinese won't steal Tesla's designs, intellectual property, etc. LOL
让中国再次伟大。我相信中国人不会窃取特斯拉的设计、知识产权等,哈哈
Mattyesterday
The equivalence of driving with a ticking timebomb.
就像驾驶一颗定时诈弹。
Anonymous9 hours ago
Chinese can copy just about anything nowadays and some are better than the originals.
如今,中国人几乎仿制?#32654;?#20219;何东西,?#34892;?#29978;至?#20173;?#29256;还好。
Libtards9 hours ago
50% tariff imposed for not made in the USA
对不是在美国制造的特斯拉征收50%的关税
Baby Farts Mcgeezks9 hours ago
They probably already stole and reverse engineered the batteries.
他们可能已经偷了电池并进行了逆向工程。
Boom Stick10 hours ago
Everything is made in china.
一切都是中国制造的。
Jeremiah s8 hours ago
Looks like there will be a Chinese clone coming out soon. Make it in China lose it in China
看来很快就会有中国版特斯拉。成也中国,败也中国。
OrdinaryGod1 hour ago
Technology stolen from us
窃取了我们的技术
kevin8 hours ago
If you want to be rich go to China, Chinese dream is on the RISE.
如果你想变富,去中国吧,中国梦正在兴起。