Give 5 more years, will help shed developing-nation tag: PM Modi
莫迪总理:再给我5年,将助印度摆脱发展中国家的标签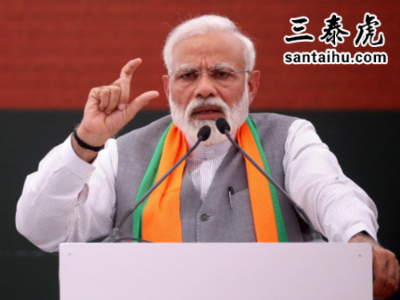 NEW DELHI: Asserting that the past five years were utilised to fulfil basic needs of the common man, Prime Minister Narendra Modi on Monday sought another term to set on track the transformation of the country as a "developed nation" by 2047 when India completes 100 years of Independence.
新德里: 周一,印度总理莫迪宣称,过去5年的任期,我满足了老百姓的基本需求。现在寻求连任的目的是,让印度走上向"发达国家"转型的轨道,到2047年印度独立100周年时,使印度成为"发达国家"。
At the release of the party manifesto — Sankalp Patra — for 2019 Lok Sabha polls, the PM reiterated that the next tenure will dedicate its energy to empower the poor and farmers, noting that the aspirational levels have gone up in keeping with heightened expectations.
在发布2019年人民院选举的党派宣言"Sankalp Patra"时,莫迪重申,下一届任期将致力于赋予穷人和农民权力,并?#36171;觶?#20154;民的期望也在不断提高。
Anchoring BJP's political vision around 'rashtravaad' (nationalism), 'antyodaya' (integral humanism) and 'sushaasan' (good governance), Modi said the party wants India to move forward in every sector and hence the Sankalp Patra focussed on a multi-dimensional approach towards growth in every sector.
莫迪将印度人民党政治愿景定位为"民族主义"(rashtravaad)、"整体人文主义"(antyodaya)和"善治"(sushaasan)。莫迪表示,印度人民党希望印度在各个领域都取得进步
"It is said that 21st century belongs to Asia and today I am asking why can't India lead. .. or should India lead or not? Our manifesto says when our country completes 100 years of Independence in 2047, then it should be transformed as a developed nation, moving on from the developing tag," he said and added, "For that 2019-2024 will be utilised for laying a strong foundation."
莫迪补充称:"有人说21世纪属于亚洲,今天我要问的是为什么印度不能领头,或者印度是否应该领头?我们的宣言是,在2047年,也就是印度独立100周年时,我们的国家应发展成一个发达国家,摆脱发展中国家的标签。为此,在2019-2024期间,我们要打下坚实的基础。"
Citing how Mahatama Gandhi converted his freedom struggle campaign into a mass movement, Modi said development should also be carried out with proactive support of masses and empowerment of the poor can happen only with they begin to seek and desire change.
莫迪引用圣雄?#23454;?#22914;何将其自由斗争运动转变为一场群众运动的例子说,发展也应该在群众的积极支持下进行,当穷人开始寻求和渴望变革时,就应该赋予他们权力。
"Two decades have gone in 21st century but I had to work on basic requirements of the people, which should have been addressed in 50s and 60s," the PM said. Endorsing speeches by party colleagues at the manifesto launch, Modi asserted nationalism is BJP's inspiration, inclusion its philosophy and good governance its mantra.
莫迪称:"21世纪已过了20年了,我必须努力满足人民的基本需求,而这些需求本应在五六十年代得到解决。"莫迪支持党内同僚在宣言发布会上的?#19981;埃?#31216;民族主义是人民党的灵感来源。
"The 'Sankalp Patra' (document of resolve) of the BJP had 75 definitive, time-bound targets for the country...We want people to hold us accountable. Hence, we have set out 75 goals to be achieved by 2022," Modi said.
莫迪表示:"人民党的'Sankalp Patra'(宣言)为印度设定了75个明确目标……我们希望人们让我们肩负起责任,因此我们设定了到2022年要?#36842;?#30340;75个目标。"
He said the party manifesto is a "multi-layered and multi-dimensional" document that addressed the expectations and aspirations of all sections of the society, and it contained "jan ke mann ki baat".
莫迪称,人民党的宣言是"多层次、多维度"的,阐述了社会各阶层的期望和抱负
"We want to fight poverty rather than sit inside air-conditioned rooms. We first addressed the needs of the people, now we will fulfil their aspirations," Modi added.
"我们要消除?#29420;В?#32780;不是坐在空调办公室里享受。我们首先解决了人民的需求,现在我们将?#36842;?#20182;们的愿望。"莫迪补充到
印度时报读者评论:
译文来源:三泰虎 http://www.5763157.com/47358.html 译者:Jessica.Wu
外文:https://timesofindia.indiatimes.com
Shweta - 8 hours ago -Follow
best of luck sir ,you have been the best PM ever hats off u
祝你好运,先生,你是有史以来最优秀的印度总理。
Dean - traveller - 8 hours ago -Follow
NaMo ji, you deserve to become pm or India, you will get 10 years , this term and next term, we won't repeat the sane mistakes we did with vajpayee ji's govt.
莫迪,你理应成为印度总理,你将获得10年的任期,这一届和下一届,我们不会重复对瓦杰帕伊政府犯下的错误。
Subodh - 7 hours ago -Follow
This is why I support / vote for Modi.
If he remains in power for d next 5 years
India ll' become a superpower / developed
nation.
Modi hain toh mumkin
我支持莫迪,也会投票给莫迪
如果他再执政5年,印度将成为超级大国,会成为发达国家。
Chowkidar Mukesh - 7 hours ago -Follow
If you estimate both organized and unorganized sectors, 17-18 crore jobs were created in last 5 years alone, which is 9-times higher than promised in the manifesto of 2014. Vote Modi!
仅在过去5年就创造了1.7-1.8亿就业岗位,这是2014年印度人民党"宣言"所?#20449;?#30340;9倍。投票给莫迪吧!
Chowkidar Mukesh - 7 hours ago -Follow
Now that the necessary infrastructure is in place, Modi will surely lift India from 3rd world to 2nd world in next 5 years. The "developing-nation" tag will be removed. From 2024 onward we will work on entering into the 1st world. Good work Modi ji! All nationalists are standing with you like a rock.
现在必要的基础设施已经到位,莫迪肯定会在未来5年内让印度从第三世界跃升至第二世界,摆脱"发展中国家"的标签。从2024年起,我们会努力跻身第一世界。莫迪,干得好! 所有的民族主义者坚决拥护你。
Krushna Farm - 6 hours ago -Follow
You deserve it sir.
这是你应得的。
Anand Deshpande - Singapore - 5 hours ago -Follow
MODI AGAIN AS PM
MODI AGAIN AS PM
MODI AGAIN AS PM
……
莫迪再次当选总理
莫迪再次当选总理
莫迪再次当选总理
Ajai Narayan - 6 hours ago -Follow
I think in 5 years ... if India is on the same trajectory ... we might even see a major reverse brain drain to India from the US. India already looks like a vastly better land of opportunity.
我想5年后,如果印度走上了转型轨道……我们甚至可能会看到人才?#29992;?#22269;流回印度。看来印度已经是一个充满机遇的国度。
Venugopal - Ahmedabad - 6 hours ago -Follow
Agree...we gave around 60 years to another entity. 5 more years is a very small investment for NAMO
同意……我们给了国大党60年的时间。再给莫迪5年的任期,并不过分吧
Alex - 7 hours ago -Follow
I don''t know about the tag but for sure you are the most fitted person to be PM chair!!!
我不知道能否摆脱发展中国家的标签,不过你肯定是最适合当印度总理的人!!
Sanjoy Pandey - 6 hours ago -Follow
India will soon become a developed country under the leadership of Modiji. Great...
在莫迪的领导下,印度很快会成为一个发达国家。
ONE LINER Challenge - 6 hours ago -Follow
INDIA IS A DEVELOPED COUNTRY UNDER MODI
莫迪领导下的印度是一个发达国家
Andy - 6 hours ago -Follow
All we know and care is India is in safe hands under your leadership, that itself is enough for us!!!
我们关心的是,在你的领导下,印度是安全的,这就足够了!
Sajith Kumar - 5 hours ago -Follow
Believe him he is one and the only hope for this nation. The first PM of India who does what he says. Let''s give him a full majority.
Jai hind
相信莫迪,他是这个国家唯一的希望。印度首位言行一致的总理。大家?#23478;?#25237;票给莫迪,印度必胜。
Ajai Narayan - 6 hours ago -Follow
Everybody knows deep down that opposition parties with RaGa at helm is a JOKE compared to BJP and Modi.
It is not even close.
每个人都知道,与印度人民党和莫迪相比,拉胡尔执掌的反对党就是个笑话。二者相去甚远。
Ashley King - 5 hours ago -Follow
Most of work is commendable , please take steps for employment creation a big issue now.
莫迪的大部分工作是值得称道的,现在请解决就业这个大问题。
Leladhar44 - Kuwait - 7 hours ago -Follow
Modiji is the only MATURED, CAPABLE, HARD WORKING and HONEST LEADER, Vote for MODIJI for DEVELOPMENT and NATIONAL SECURITY, Dont waste your PRECIOUS VOTE on CORRUPT IMMATURE CLOWNS.
莫迪是唯一成熟、能干、勤奋和诚实的领导人,为了国家的发展和安全,请投莫迪一票,不要把宝贵的选票投给腐败、不成熟的小丑。
Soft - 5 hours ago -Follow
Modi is the most corrupt PM. He is responsible for Gujrat massacre.
莫迪是最腐败的印度总理。他要为古吉拉特大屠杀负责。
Shiv Tandav - 6 hours ago -Follow
I really dont understand, you have done such a great job in last five years, why are you begging for votes? Or do you think the voter of country has become smart?
我真的不明?#31069;?#22914;果你在过去五年做得这么好的话,为什么还要在这里拉票呢?还是你认为这个国家的选民变得聪明了?
R - Gurgaon - 4 hours ago -Follow
Yes, 5 more years are required to give many more fat contracts to Anil Ambanijee.
为了给安巴尼吉更多合同,你需要在这个位置上再待5年。
Anil - 5 hours ago -Follow
We certainly believe in you PM Modi... And i am sure you will remain prime minister for the years to come
我们当然相信你,莫迪总理……我相信,在今后的岁月里,你们将继续担任总理
Being - 7 hours ago -Follow
I vote for BJP.
我投印度人民党一票。
Jay - 5 hours ago -Follow
BJP is all about one man show.. If modi win again, this will be the last time BJP will be in power untill next several decades.
印度人民党就是莫迪一个人在撑着。如果莫迪再?#38382;?#36873;,那么会是人民党在未来?#29976;?#24180;内最后一次执政。
Jumla Expert - 8 hours ago -Follow
Camera Lover Modi has again rudely pushed another SPG Commando for coming in front of Camera.
热衷拍照的莫迪再次?#33268;?#22320;推了一名SPG突击队员,因为他挡住了镜头。
Vinod - 3 hours ago -Follow
we people are fed up with jhumlas and fekus .. its enough just get lost.
我们受够了莫迪的谎言…滚吧。
Sp - 3 hours ago -Follow
sorry, we cannot bear 5 more years of your lies, blunders, hatred and ambani family appeasement...
对不起,我们无法再忍受给你5年的时间说谎,无法再忍受你的错误,无法再忍受你对安巴尼家族的姑息…
The - 4 hours ago -Follow
Yes you have my vote......and I believe you.
是的,我相信你,投你一票。
Ravi - Chennai - 6 hours ago -Follow
If we give five more years to Watchman Modi,there will be no India. Keep BJP away from power, it gets to their head.
如果我们再给莫迪五年时间,印度就不复存在了。让印度人民党下台吧
Vasaikars M - Vasai - 8 hours ago -Follow
You said same in 2014 Sir!
2014年你也是这么说的,先生!