Sales of scooters slip for first time in 13 years, car growth hits 5-year low
小型摩托车销量13年来首次下滑,汽车销量增速创下5年来新低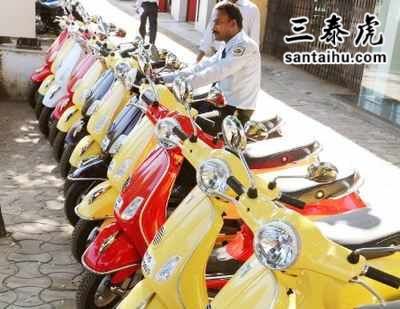 NEW DELHI: Pressure on the jobs front and the growing pain in rural and semi-urban India has started to tell on the auto industry. Sales of scooters have slipped into the red for the first time in 13 years and the passenger vehicles segment —that includes cars and SUVs — has grown at the slowest pace in the last five years.
新德里:就业方面的压力,以及印度农村和半城市化地区人们的日子日益?#21387;?#24050;开始影响到汽车行业。小型摩托车的销量13年来首次出现下滑,而包括轿车和SUV在内的乘用车销量增速也降至5年来的最低水平。
Scooters, that account for nearly one-third of total two-wheelers sold in the country, recorded sales of 67 lakh units in 2018-19, down 0.27% from 67.2 lakh units in the previous year. The last time that the category — which has been credited with single-handedly adding weight and buoyancy to the two-wheeler segment over the past few years — had fallen was in fiscal 2005-06 where it de-grew by 1.5%.
小型摩托车占印度两轮车总销量的近三分之一,其销量在2018-19年度达到670万辆,较上年的672万辆下降了0.27%。上一次下降是在2005-06财年,当时销量下降了1.5%。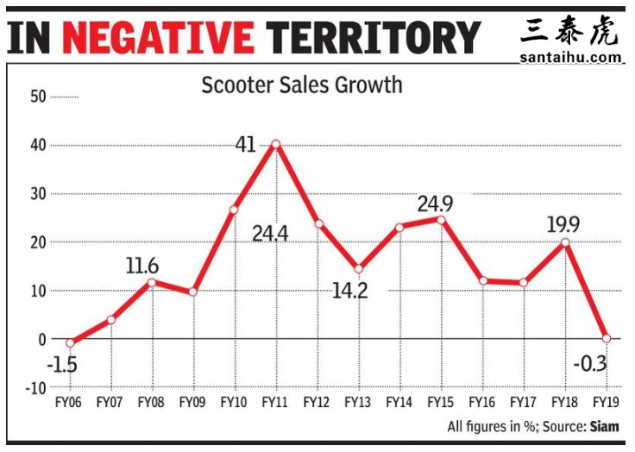 Sales of motorcycles have been struggling over the last few months and have been in the negative territory since January this year. Companies such as Hero Moto, Honda Motorcycle and Scooter India (HMSI), and TVS have cut production and also dealer dispatches as they fall in line with the new reality.
在过去的几个月里,摩托车的销量一直在苦撑,自今年1月以来一直处于负增长状态。Hero Moto、本田摩托车、Scooter India (HMSI)以及TVS等公司,都在削减产量,并减少经销商发货。
Industry body Society of Indian Automobile Manufacturers (Siam) came out with a conservative, rather grim, outlook for the new fiscal. On a 2.7% growth in passenger vehicles in 2018-19, it predicted a growth between 3% and 5% for 2019-20. Two-wheelers too saw a forecast of 5-7% growth, nearly same as the 5% growth realised in 2018-19.
印度汽车制造商协会(Siam)对新财年的前景?#30452;?#23432;、悲观的看法。在2018-19年乘用车销量增长2.7%的基础上,该协会预测2019-20年乘用车销量增长在3%至5%之间。两轮车销量预?#24179;?#22686;长5-7%,与2018-19年实现的5%增长几乎持平。
"The situation on the jobs front is among some of the sentiments that have affected the growth in the passenger vehicles industry," Siam president Rajan Wadhera said.
印度汽车制造商协会主席Rajan Wadhera表示:"就业形势是影响乘用车行业增长的因素之一。"(译自印度时报)
以下是印度时报读者评论:
译文来源:三泰虎 http://www.5763157.com/47365.html 译者:Jessica.Wu
外文:https://timesofindia.indiatimes.com
Venugopal - Ahmedabad - 5 hours ago -Follow
Well with all the Ubers & Olas and the tiring traffic, it would be insane to buy a personal vehicle. A small car would cost one around Rs. 10-14 per Km, while you can travel for less with Uber/Ola particularly with pooling.
有了优步和Olas之后,谁要是买私家车,那就真是太疯狂了。一辆小型汽车每公里大约要花费10-14卢比,而乘坐优步或Olas出行则便宜得多,尤其是在拼车的情况下。
L R Nathan - 4 hours ago -Follow
Economy is slowing down. The country is heading towards great depression
印度经济正在放缓,正走向大萧条
Ash - Mumbai - 5 hours ago -Follow
BJP is made the life tough for people due to their misgovernance...MODI should be removed..CONGRESS WILL BOUNCE BACK
印度人民党的治理不善致使人民的生活变得艰难。莫迪应该下台,国大党将使这个国?#24050;?#36895;恢复元气
Deepak - Karnataka - 3 hours ago -Follow
If it was increasing sales, then definitely bakhts would have credited Modiji!!!. Now they are quiet!. What they don''t realise is that the sales is directly linked to the jobs!. This also proves that Modiji has been unable to create new jobs but actually it''s going in the negative!!!
如果销量增加,那些人肯定会?#21387;?#21171;归于莫迪!!
现在他们不吭声了!他们没有意识到的是销量与就业直接相关。这也证明了莫迪一直无法创造新的就业机会,实际上就业机会正在减少!!
Ramana - 3 hours ago -Follow
No doubt, people are a bit cautious with new purchases be it two wheelers or four wheelers.To be coservative in spending is advisable in a way.However, the drop of 0.2 lakhs on 67.2 lakhs amounts to 20,000 and such a small difference on such a large figure may not be a serious factor for concern.Coming to the four wheelers,as is pointed out,people are postponing purchases as cab segment is picking up momentum
毫无疑问,无论是两轮车还是四轮车,人们在购买新车时都有点谨慎。在?#25345;?#31243;度上,节省开支是可取的。然而,在672万的基础上才减少了2万,没什么好担心的。谈到四轮车,正如所指出的,随着出租车行业的发展势头越来越好,人们开始推迟买车。
Pkm - Lagos - 3 hours ago -Follow
High inflation and Petrol, switching to a bicycle.Acche Din
通胀膨胀加剧、油价高涨,大家只能去买自行车,"好日子"呢
Pkm - Lagos - 2 hours ago -Follow
Demonetisation which affected the poor, middle class and the lower middle class adversely. Housewives lost their hard-earned savings, workers lost their jobs.
印度"废钞令"对穷人、中产阶级和中下阶级产生了负面影响。家庭主妇失去了?#37327;?#25379;来的积蓄,工人失去了工作。
Sudeesh - 2 hours ago -Follow
Modi chowkidar effects
莫迪效应
Vihin - Nihiv - 3 hours ago -Follow
It seems in Modi Raj, all unemployed ppl are buying Car instead of scooters.
看来在莫迪?#25345;?#19979;,失业的人都在买汽车,而不是买小型摩托车。
Syed - 2 hours ago -Follow
Nahru Ji get ready to start blame game
准?#36127;?#24320;始推?#23545;?#20219;了
Naresh Kumar - 1 hour ago -Follow
under Modi Raj everything is declining and crumbling..
在莫迪?#25345;?#19979;,一切都在衰落和崩溃。
Nanda - Hyderabad - 3 hours ago -Follow
good sign...car pooling and public transport should be the future...
好事……拼车和搭乘公?#27493;?#36890;出行应该成为未来的趋势……
Ramakrishnan - Kerala - 5 hours ago -Follow
Those who would normally aspire to own two wheelers find that a used car almost cost the same.
那些通常想买摩托车的人发现,一辆新摩托车和一辆二手汽车的价格几乎是一样的。
Inderjeet - 3 hours ago -Follow
Sales of scooters and bikes show that market is heading towards a slowdown. Not only this international slowdown is also visible where export sector is feeling heat. It is right that in metros people are least interested in 4 wheelers, reason beeing cheap ride of ola, uber. In delhi people now prefer this coz parking is a problem also
小型摩托车和自行车的销售显示,市场正在走下坡路。不仅国际经济放缓,出口行业也感受到?#25628;?#21147;。在城市里,人们对4轮车最不?#34892;?#36259;,乘坐ola和优步更便宜。在德里,人们更不?#19981;?#20080;车,停车也是一个问题。
Biswa Nath - 4 hours ago -Follow
We should updated with electric vehicles
我们应该升级到电动汽车
Rohit - 6 hours ago -Follow
two wheeler must be banned including Auto rickshaw s
务必禁止两轮车,还有机动三轮车
Jumla Expert - 18 mins ago -Follow
Everyone will ride Bullock Cart now.
现在每个人都要坐牛车了
sharmankind - 21 mins ago -Follow
Good. Roads will be that much less congested.
很好,道?#26041;?#19981;再那么拥挤。
krishnamurthi narrainen - QUATRE BORNES MAURITIUS - 23 mins ago -Follow
INDIANS ARE TRAVELLING IN UBER CARS CHEAPER THAN DRINVING A CAR WITH NO PLACE TO PARK
印度人乘坐优步出行,比开车更实惠,开车还?#20063;?#21040;停车位呢