Indian Navy ships reach China port to take part in international fleet review
印度海军舰艇抵达中国港口参加国际阅舰式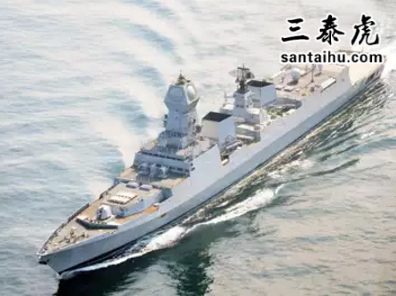 BEIJING: Indian Navy destroyer 'INS Kolkata' and energy vessel 'INS Shakti' have arrived at China's Qingdao port to participate in an International Fleet Review. Surprisingly, Pakistan has decided not to take part in the review.
北京:印度海军驱逐舰"加尔各答"号和补给舰"沙克蒂"号已抵达中国青岛港,参加国际阅舰式。令人惊讶的是,巴基斯坦已经决定不参加此次阅舰式。
Over the next few days, China plans to make a big show of its newly developed naval capabilities, which include nuclear submarines and destroyers, at a parade marking 70 years of its navy's founding.
未来几天,中国计划在纪念其海军成立70周年的阅兵式上,大规模展示其新研发的海军装备,包括核潜艇和驱逐舰。
INS Kolkata, which is commanded by Captain Aditya Hara, is equipped with the latest weapons, including supersonic Brahmos missiles and sensors. It is capable of simultaneously engaging multiple threats from the air, sea and underwater. Supporting it with supply of fuel, provisions and munitions is INS Shakti, which is commanded by Captain Sriram Amur.
由阿迪蒂亚·哈拉上尉指挥的"加尔各答"号配备了最新武器,包括超音速布拉莫斯导弹,能够同时应对来自空中、海上和水下的多种威胁。
Ten countries -- including India, Russia, Singapore, Thailand and Vietnam -- will deploy 20 vessels to join the naval parade. China is expected to parade 32 vessels and 39 aircraft as part of its plan to flex naval muscle.
包括印度、俄罗斯、新加坡、泰国和越南在内的10个国家将派遣20艘军舰参加阅舰式。预计中国将展示32艘军舰、39架飞机,以展示其海军实力。
印度?#21271;?#35835;者评论:
译文来源:三泰虎 http://www.5763157.com/47451.html 译者:Jessica.Wu
外文:https://timesofindia.indiatimes.com
Kishor • 5 hours ago
Pakistan is shame to show their fishing boat with guns
巴基斯坦羞于展示他们那装备大炮的渔船。
Kishor Velayudhan • 1 hour ago
Hahaha well said bro
哈哈哈,说得好,兄弟
BlumenKishor Velayudhan • 2 hours ago
They don''t Money to Buy Diesel for even those boats to travel to China.
他们没钱给那些开去中国的船加油。
Kishor Velayudhan • tobago • 1 hour ago
world knows where pak is, it is not even worth it to mention their names.
全世界都知道巴基斯坦排在什?#27425;?#32622;,他们的名字不值一提。
Santos • Mumbai • 6 hours ago
Pakistan can't send there ship, no money for the fuel
巴基斯坦没法派船过去,没钱买燃料
ONE LINER Challenge • 6 hours ago
Modi''s Indian Navy on Display in full Colors- A Warning to China - This is the Just the Tip of the Berg of Indian Navy- The arsenal is too BIG - Mind you
莫迪的印度海军惊艳?#26009;啵?#36825;是警告。当心点,这只是印度海军的冰山一角,我们的武器库太庞大了。
ONE LINER Challenge • 2 hours ago
Call it Indian Navy , not Modis Indian Navy uske baap ke property nahi hai .
是印度海军,不是莫迪的印度海军
Indian mouth • ONE LINER Challenge • cow land • 6 hours ago
mouth bigger than Modi''s. Facts: China already has the 2nd largest navy, will soon overtake the USA. Don''t be frogs croaking inside a deep hole called India
比莫迪还能吹。事实上:中国海军已经世界第二,很快就会超过美国。不要做井?#23383;?#34521;了。
ONE LINER Challenge • Mackay • 18 mins ago
LOL ! Your comments always make laugh so loud my chest hurts. India''s mighty navy has 17 submarines in its huge fleet. Two of which are nuclear powered boats. One attack submarine that is owned by the Russian Federation and leased by India and an indigenous ballistic missile boat armed with nukes. That leaves 15 conventional powered diesel electric subs. Two of the 15 are brand new Indian/ French boats (with 3 more under construction) Nine are aging Russian warships from the Soviet Union era ,really quite old and devoid any any modern technology. The remaining four are high quality German/Indian subs but nowhere near as sophisticated as the new French/India subs now joining the fleet. In 2016, the Pentagon, on its United States website, reported it had assessed the strength of the Peoples Liberation Army Navy submarine fleet at 76 boats. 60 modern cutting edge diesel electric boats and 16 nuclear powered attack and ballistic missile submarines. Over the past two years, China has focussed on expanding its deterrent capabilities with nuclear powered ballistics missile submarines that carry nukes. Its JIN class boats for example carry 24 ballistic missiles that are armed with 500 kiloton warheads that have the same destructive energy as 35 Atom bombs that were dropped on Hiroshima.
哈哈! ?#30475;?#30475;你们的评论,我都笑?#20204;?#20208;后翻。印度?#30475;?#30340;海军拥有17艘潜艇,其中两艘是核动力。其中一艘攻击潜艇是从俄罗斯租的,还有一艘装备核武器的?#23601;?#24377;道导弹艇,其余15艘是常规柴油动力潜艇。在这15艘中,有两艘是全新的印度/法国潜艇(还有3艘正在建造中),9艘是苏联时代的老旧俄罗斯潜艇,非常老的,?#38469;?#32769;旧。剩下四艘是高质量的德国/印度潜艇,但远?#25381;?#29616;在加入舰队的法国/印度潜艇那么先进。2016年,五角大楼在其美国网站上报告,评估了中国海军76艘潜艇的实力,包括60艘现代先进的柴油潜艇、16艘核动力攻击和弹道导弹潜艇。在过去的两年中,中国一直在壮大潜艇的规模,加强威慑力。例如,中国新型潜艇可携带24枚弹道导弹,这些导弹破坏力相当于35颗当年投放在广岛的原子弹。
ONE LINER Challenge Indian mouth • 5 hours ago
Idiot it is not what one has- it is what one can USE- Dumb
You have a Mouth that is BIG enough to Swallow you- make yourself Scarce.
关键不在于你拥有什么,而在于你能用上什么。

ONE LINER Challenge Indian mouth • 5 hours ago
LOL you live in the 15th Century Idiot-This is Modi's India we are talking of here- If a Fly has to be killed like China we donot use Brahma-astra- we kill a Fly with a Slap- if we want to take the World down we will use Equipent which will Kill you Dead in inder 30 mts- Wake up Dumb
哈哈,你是生活在15世纪的?#22766;鍘?#25105;们在这里谈论的是莫迪领导下的印度
要对付苍蝇,焉用宰牛刀?
Indian mouth • ONE LINER Challenge • cow land • 5 hours ago
China invited Indian navy as a GUEST. If Indians do not agree, simply turn down the invite. Perfect OK. BUT: Once accepted, both are expected to be HONORABLE MEN. As a host, China will never try to intimidate any guest by either bad mouth or belittling. As a honorable guest, nobody should try to offend its host. YOU: an idiot Indian, is totally out of the norm. 300 hundread years of British civilized rule did do any good to you. Reading your post: praise your impotent Modi any way U want, but THREATs to China? Are U civilized or animal?
中国邀请印度海军作为宾客参加阅舰式。如果印度人不同意,那就干脆拒绝邀请,?#28304;?#27426;喜。但是,一旦接受邀请,他们都被认为是值得尊敬的人。作为东道主,中国永远不会?#26522;?#35821;相向或妄自尊大来吓唬客人。作为贵宾,也不应该冒犯主人。300年的英国文明统治确实?#38405;?#20204;有好处。你们想怎么赞美无能的莫迪都行。
Woof Woofer • 2 hours ago
You are Right- Under Congress we all became IMPOTENT- Under Modi we became POTENT
在国大党的领导下,我?#28508;?#24471;无能——而在莫迪的领导下,我?#28508;淶们看蟆?/strong>
proud Indian • proud Indian • cow waves • 7 hours ago
This is a friendly visit. No need for Indians to boast and brag.
这是一次友好的访问。印度人?#25381;?#24517;要?#28304;?#33258;擂。
Simson G • 4 hours ago
Oppose China publicly for Indian public and surrender silently in private?
公开反对中国,这是做给印度民众看的,私下里默默投降?
Sarin Mall • Mumbai • 4 hours ago
Wht the fleet review in china?
中国的阅舰式是啥?
Indian mouth • Sarin Mall • cow land • 3 hours ago
The most advanced nuclear submarines, destroyers, aircraft carrier with all China made jet fighters. What else U want to see? As U know: China shows off its hardware only after they are OPERATIONAL. India BOASTs their whatever before they even exist. Nobody can compete with Indian MOUTH.
最先进的核潜艇、驱逐舰、航空母舰、中国造的喷气式战斗机。你还想看什么?众所周知,中国?#25381;?#22312;装备?#24230;?#20351;用后才会炫耀。而印度没造好就开始吹嘘了。没人能比印度人更会吹。
Pradeep • 1 hour ago
It is sensible and desirable for the two most populous nations to remain friends.
两个人口最多的国家保持友好关系,才是明智的选择。
Posttokrish • 1 hour ago
Trust me if India and China are friends, then no one can stop them. but practically not possible.
相信我,如果印度和中国是朋友的话,那?#25381;?#20154;能阻止他们。但实际上这是不可能的。
Meenakshi • 1 hour ago
jai hind
印度必胜