New iPhone 11 leak likely shows us Apple's final design
iPhone 11最新泄露?#35745;?#24456;可能向我们展示了最终设计
It's about that time of year, folks. With WWDC now less than two months away and Apple's 2019 iPhone unveiling just a few months out, the Apple rumor mill is about to kick into high gear. And despite Apple's best efforts to "double down" on product secrecy, the previous few years have shown that Apple can't really do much of anything to prevent substantive rumors regarding upcoming products from leaking out. Interestingly enough, some of the more revealing leaks we've seen in recent years haven't come from third-parties but from Apple itself.
距"苹果全球开发者大会"开幕还有不到两个月的时间,而距苹果发布2019年新款iPhone也只有几个月的时间了,关于苹果的谣言即将进入高潮。尽管苹果尽了最大的努力来"加强"产品保密,但过去几年的情况表明,苹果确实对防止新产品设计的泄露无能为力。有趣的是,近年来我们看到的一些泄露信息并非来自第三方,而是来自苹果自身。
This year, Apple hasn't slipped up just yet, but that's not to say the rumor mill has been quiet. On the contrary, with each passing week we seem to gain a firmer grasp of what Apple is planning to bring to the table with the release of its forthcoming iPhone 11 lineup. Just this weekend, for instance, physical molds of the iPhone 11 and iPhone 11 Max surfaced online and provide us with a clearer look at what Apple's next-gen iPhone lineup will look like.
今年,苹果还没出差错,但这并不表明谣言工厂已经安静下来。相反,随着时间一天天过去,我们似乎对苹果即将发布的iPhone 11系列有了更深的了解。例如,就在这个周末,iPhone 11和iPhone 11 Max的实体模型在网上浮出水面,让我们更清晰地看到了苹果下一代iPhone的真容。
So as evidenced above, the iPhone 11 and iPhone 11 Max, as previously rumored, will both boast a triple-lens camera design that should provide users with enhanced zoom, ultra wide-angle shots, and more. Incidentally, reputed analyst Ming-Chi Kuo last week issued an investor note relaying that the iPhone 11 and iPhone 11 Max will feature a ultra-wide 12 megapixel sensor.
正如之前传言的那样,iPhone 11和iPhone 11 Max,都将采用三摄像头,可为?#27809;?#25552;供增强的变焦、超广角拍摄等功能。?#28526;?#25552;一句,知名分析师郭明錤上周发布了一份投资者报告,称iPhone 11和iPhone 11 Max将配备1200万像素超广角镜头的传感器。
Kuo's note reads in part:
We forecast the camera upgrade will be one of the new 2H19 iPhone's major selling points. Critical spec upgrades are as follows. (1) Rear cameras of 6.5-inch OLED, 5.8-inch OLED, and 6.1-inch LCD will likely upgrade to triple-camera and dual-camera, respectively. A super-wide camera will be newly adopted by the triple-camera system, which is equipped with the 12MP/1um CIS provided exclusively by Sony.
郭明錤的部分预测如下:
我们预计,摄像头升级将是新款2019 iPhone的主要卖点之一。关键的规格升?#24230;?#19979;。(1) 6.5英寸OLED、5.8英寸OLED和6.1英寸LCD后置摄像头可能分别升级为三摄像头和双摄像头。全新的三摄像头系统将采用超广角摄像头,配备索尼独家提供的1200万像素/1um CIS镜头。
Kuo further added that the front-facing cameras on both devices will incorporate 12 megapixel sensors, a solid bump up from the 7 megapixel sensors currently found on Apple's iPhone XS and XS Max models.
郭明錤还补充说,这两款手机的前置摄像头都将配备1200万像素传感器,相比目前苹果iPhone XS和XS Max手机上的700万像素传感器,是一大幅提升。
A front view of Apple's iPhone 11 models can be seen below, though there's not too much to see. The notch remains, though it's worth pointing out that Apple, with the release of the iPhone 11, will reportedly introduce some reliability and performance improvements to Face ID.
下图是苹果公司iPhone 11手机的前视图,?#36824;?#27809;什么看点,凹槽依然存在。有必要指出的是,随着iPhone 11的发布,苹果公司将会引入一些可靠性和?#38405;?#26041;面的改进来支持Face ID。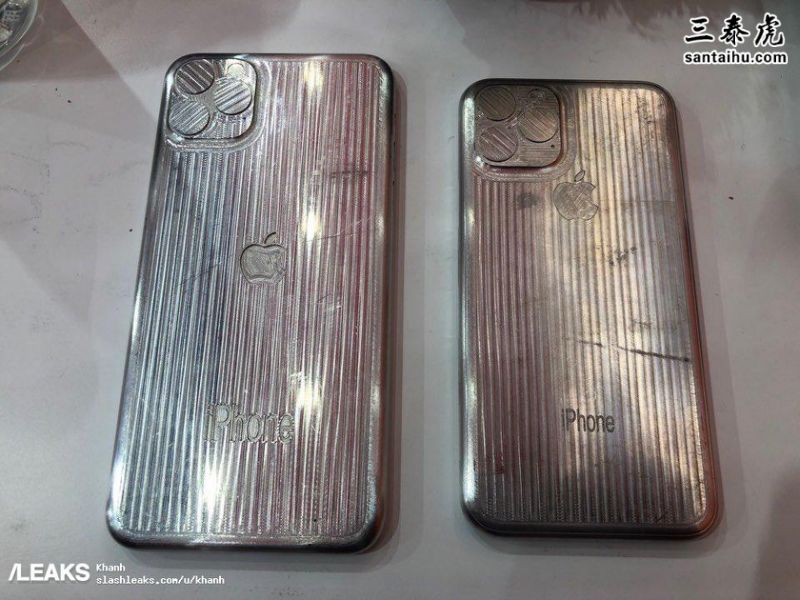 以下是美国雅虎读者评论:
译文来源:三泰虎 http://www.5763157.com/47460.html
外文:https://news.yahoo.com/iphone-11-leak-likely-shows-121755116.html
T15 hours ago
Had a 7 plus before it broke and insurance gave me an 8 Plus. None of the phones matter until we get 5g models. I'll probably hold out for another year or two
摔了一部iPhone 7 plus, 保险赔了我一部iPhone 8 plus。在推出5G手机之前,用什么手机都不重要。我目前这部可能还要再用个一两年
JR16 hours ago
It will look like last years iPhone, but with an extra camera in a weird triangle configuration...
看起来就像去年发布的iPhone,多了一个奇怪的三摄像头……
D17 hours ago
iPhoneSE is the best iPhone. Perfect size screen with plenty of power. Some of us do not want giant screens.
iPhone SE是最好的iPhone手机,屏幕尺寸完美,有些人不想要大屏幕。
Larry19 hours ago
Why don't they make it work better as a phone? I thought it was a phone, NOT a camera. If I want to take such good pic I would use a camera. I want to be able to MAKE PHONE CALLS!!
为什么不做一部更好的手机呢? 这是手机,不是相机。如果我想拍高清照片,我会用相机。手机是?#32654;?#25171;电话的!!
PaulM18 hours ago
WAIT!!!! I still haven't upgraded to the 7, 8, X, or 10 yet. I need to take out a second mortgage.
等等! ! ! !我还没有升级到iPhone7 、8 、X。我得办第二次抵押贷款。
Neo13 hours ago
Iphone stopped being innovative years ago.
几年前iPhone就停止创新了。
Mr Pickles15 hours ago
The best part is, it'll only be $1350 for this new phone that really hasn't been able to do much more than the 5 can still do today.
最棒的是,这款新手机的售价仅为1350美元,其功能并不比iPhone 5多多少。
Julian18 hours ago
It's still gonna be 12 megapixel???? In that case I'm keeping my iPhone X and paying it off. Still have till April 2020. Triple lens does nothing to entice me.
还是1200万像素?这样的话,我将继续用我的iPhone X,一直用到2020年4月。三摄对我毫无吸引力。
Willum15 hours ago
copy of Huawei, three camera setup, what else is copied from huawei??
抄袭华为,三摄像头,还有什么是从华为那抄来的?
Anonymous17 hours ago
Hmmm Let me see, I should probably upgrade to an IPhone 7. Naaah ..
我想升级到IPhone 7。
Jason T15 hours ago
Wait, I JUST bought the iPhone XS Max and spent $1200! Now another one is coming out with better features?? Come on.
我?#31456;?#20102;iPhone XS Max,花了1200美元!现在又有一款功能更好的手机问世了??
Show us those tax returns, chump19 hours ago
Apple said that they will only increase the price by 50%.
苹果表示,价格会提高50%。
Bicycle Bill3 hours ago
Other than getting bigger and making the screen be the entire front of the phone, there has been really no major 'design' change in smartphones — by ANY manufacturer — since 2010.
自2010年以来,除了屏幕变得更大外,智能手机的"设计"真的没有发生任何重大变化。
darth laidher16 hours ago
To all the people saying apple is too expensive samsung charges over 1000 dollars for thir phones too and apple not innovating? The face ID is being done better than any other company, samsung uses 2d face scanning but apple uses 3d face scanning.
我想和所有说苹果太贵的人说,三星的三流手机要价都超过1000美元。苹果的人脸识别比其他任何公司都做得好,三星使用2D人脸扫描,而苹果使用3D人脸扫描。
cup of tea16 hours ago
Didn't see any change, except the price increase.
除价格提高之外,没有什么变化。
Bob7 hours ago
BOYCOTT APPLE PRODUCTS STORES AND SERVICES!
抵制苹果商店及服务!
God6 hours ago
Unless they vastly improve the batteries I will never buy another iPhone! Currently Samsung Galaxy S10+ is my phone of choice and it is great!
除非大幅改进电池,否则我再也不会买iPhone手机了!目前我用的是三星Galaxy,真的很棒!
Michael5 hours ago
Lol at iPhone... as they increase camera megapixels they turn beauty mode on automatic!
像素提高了几百万,自动开启美颜模式。
Mike16 hours ago
Now they are copying samsung HAHAHAH
现在轮到苹果抄袭三星了,哈哈哈
Oscar15 hours ago
So... basically, it's the same phone as last year.
基本上和去年推出的iPhone手机一样。
Erick Hootman18 hours ago
$2,000 Only!
只要2000美元。
CharlieK16 hours ago
My iPhone is now about 3 years & I feel no need to exchange my small s
苹果什么时候才能醒过来,什么时候让人们再次惊叹呢?
MrE16 hours ago
Lets see how much stuff they stole from Samsung now..
看看他们从三星偷了多少东西…
Bad Santa1 hour ago
My FLIP PHONE still works.
我的翻盖手机还能用。
JWJ8 hours ago
Photography is a huge selling point. Good work Apple.
相机是一个大卖点。做得好,苹果。
Jimbo6 hours ago
I won't buy it unless it is 5G compatible.
除非兼容5G,否则我不会买。
Richard Fitzwell2 hours ago
My 6 Plus still works just fine.
我的iPhone 6 plus用着还不错。
Bargain8 hours ago
Will it retail at 1500 or 2000 dollars?
售价是1500美元还是2000美元
Curtis C5 hours ago
Great , a $1200 camera
太好了,一台1200美元的相机
G19-G417 hours ago
It's still ugly!
还是很丑。
Fails18 hours ago
Ugly
丑